York & County Press
.......................................................................................
A Media Miracle By Anne Blood, recently retired Managing Director,
York & County Press

Mine is a remarkable story of the radical change in one company's fortunes over a very short sixteen months. It tells how Workplace Marketing™ enable us to recapture robust bottom line performance, revolutionise our company culture, re-energise our functional teams and become accredited as having achieved the national standard as an Investor in People. The IIP accreditation panel paid us the further compliment of remarking that "is the first time that we have seen investment in people properly drive the management of change!".

Workplace Marketing™ is the methodology we used to capture 450 people across 3 sites and lock then into a change process that was never going to be an easy ride. I had just taken over as Managing Director and given myself two years until early retirement. Little did I know at the that I was preparing the company for acquisition. I knew the management team I inherited was unlikely to stand the pace and turned to Strategic Management Resources for partnership. We became a team from day one with the general management experience as well as the experience in editorial, advertising and print production that they were able to provide. That gave me the courage I needed to solve problems that seemed like endless ranges of mountains as they came rocketing towards me.

I replaced my top team with those who offered me vision, dedication and trust. We developed a creative business strategy and plan, put our managers at all levels through a rigorus development programme, found four secretaries (management and communication executives - the MICE!) who were more than capable of running the personal and communications process and gave everyone a voice.

All members of staff, with very few exceptions, became agents of change from the bargees who brought our paper up the River Ouse from Goole to the men of the Press Room whose sleeping bags miraculously disappeared from the back stairs.

Within a very few months all staff had role definitions, had gone through a productive self-assessment of their performance, had been set objectives and each had a personal development and training plan.

When we started out, our colleagues elsewhere in Westminster Press gave little for our chance of success. Many had been pursuing change programme for months if not years and shown minimal progress.

In the end the improvement in our performance told our story for us and we grew on to make a significant contribution to the value placed on Westminster Press by its scale to Newsquest.

Workplace Marketing™ really lives up to its reputation. It enabled York and Country Press to improve its margins by over 50%, increase advertising revenues and stem a drop in circulation that has become the bete noire of regional newspapers.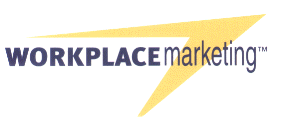 devised by Juliet Williams, Founder Director
Case Study 1: Mobilising Management at Waddies Print
Case Study 2: A Media Miracle at York and County Press

Workplace Marketing™ Fact Sheet (62Kb)